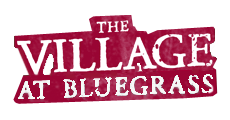 The Village at Bluegrass Move-In Day Information
We're excited to have you as a resident at The Village at Bluegrass! Check out these frequently asked questions for what to bring, what not to bring, what is provided in your apartment and more!
When do I move in?
Please be sure to review your scheduled move in day and time provided to each resident via email prior to move-in. It is important for each resident to stick to their assigned schedule for a swift and easy move-in day for all residents in our community.
What documents do I need to bring on move-in day?
Please bring the following documents and information with you when you check-in at the clubhouse on move-in day:
Photo ID
Vehicle Information (Make, Model, Year, License Plate Number)
Consumers Energy & DTE Utility Confirmation Numbers
What furniture comes in my apartment?
​
Common Area
Sofa
Lounge Chair
Coffee Table
End Table
Dining Area with Stools
Entertainment Stand
Dining Table w/ Chairs*
*Provided in 4x2, 2x2 and 4x4 Premium floor plans
Bedroom
Mattress with bed stand
Night Stand
Dresser
Desk
Desk Chair
Sliding Mirror Doors on Closets
What appliances are in my kitchen?
Each kitchen comes with:
Garbage Disposal
Dishwasher
Microwave
Stove
Oven
Freezer (including ice maker)
Fridge
What items should I bring with me for my apartment?
We recommend bringing the following items with you:
Full-Size Bedding
Shower Curtain
Towels & Other Bathroom Accessories
Kitchen Utensils
Pots, Pans & Dishes
Lamps For Bedroom & Common Area
Cable Cord
Ethernet Cord
TV For Bedroom
What items should I not bring?
There are no items that are strictly forbidden in our units. Keep in mind that If you bring your own furniture for a furnished apartment, you need to be able to provide storage for the furniture the Village at Bluegrass provides.
Is there anything else I should know prior to move-in day?
If you would like wireless internet for your apartment, you will need to get a wireless router for yourself.
Is parking available for me and my guests?
Yes! We give one parking permit per resident. As far as guests go, don't worry! It's as simple as having your guests park in the large parking lots facing away from the sidewalks and buildings. Your guests are allowed to stay for a maximum of 3 days. For the move-in weekend, we understand that everyone has trailers and trucks so feel free to park them in the center of the parking lot as to not block other spaces.
If there are any questions you have about move-in day or your apartment, we're here to help! Contact our leasing office today for assistance.